End Listings In Mass

There may be a situation where you need to end multiple listings at one time.
To do this, you would use the End Listings feature.
1.Open the Listing Manager and then click Activities and then click End Listings.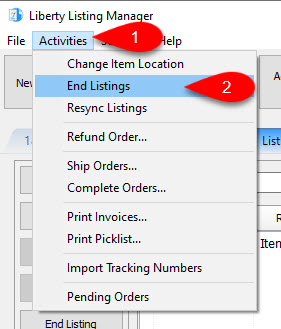 2.Now you will need to use the filters to narrow down the listings that you want to end.



a.Marketplace: Select the Marketplace you want to remove listings from. Leaving this open will allow you to remove from all marketplaces.
b.Status: Allows you to select from listings that are either Active, Not Ready or Ready.



c.Listed on or before: Lets you narrow the listings you want to remove on or before a certain date.



d.Exclude Retail: Checkmarking this option allows you to remove retail items from the view so you don't accidentally remove those listings.




3.You can then select multiple listings by lassoing/dragging your selection box around the listings you want to remove. You can also hold the Ctrl key and click on the individual listings to multi-select the listings that you want to remove. Finally, you can use a simultaneous combination of the Shift and the Ctrl key to select batches of listings.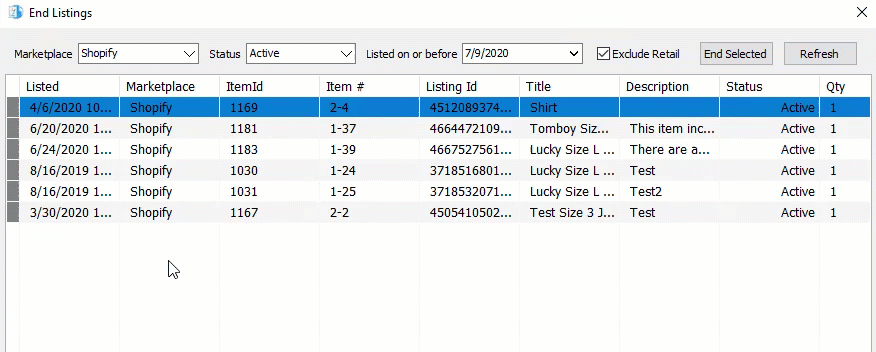 4.Click the End Selected button when you have selected all the listings you want to remove.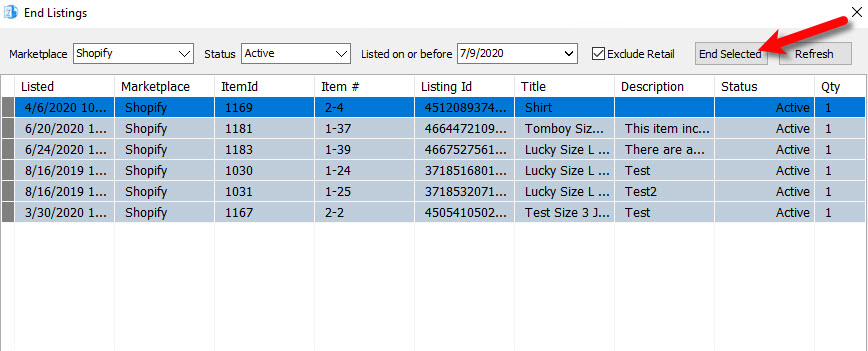 5.Click the Yes button to remove the selected listings.



Note: Listings that have been removed with this method will be set to a Removed status. Once the listings are actually pulled down from your selected marketplace, the items will then be set to a Completed status.


Related Topics
Duplicating A ShopRW / Shopify Listing