Listing Tab Buttons and Definitions
The Listings tab is where you can interact/edit and view all current web item listings.
Here, you may also view all past web item listings. .
●Open the Listing Manager and click on the Listings tab



Listings Tab Button Definitions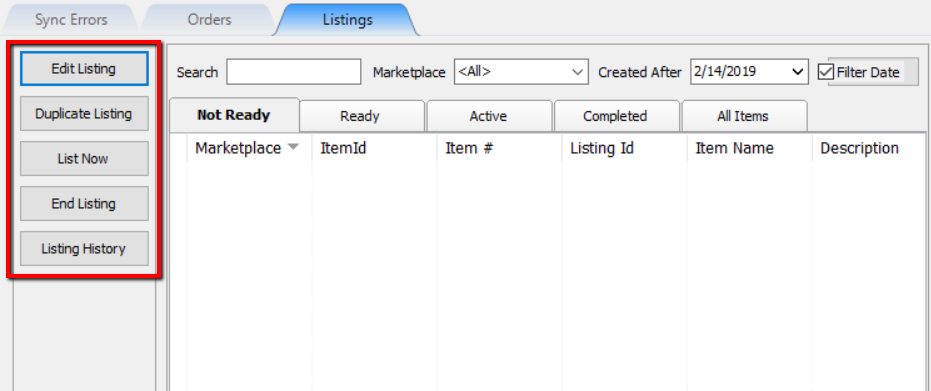 Edit Listing: Allows you to edit an existing item listing so that you can make changes.
Note: Depending on what platform your web item is listed on, you may need to click End Listing before you can edit the item properly.


Duplicate Listing: Allows you to make a copy of an existing web item listing or to allow you to make a duplicate listing for a completed item.


List Now: Allows you to select an item that is within the Not Ready tab and then list the item to the designated platform.


Listing History: Select any web item listing and click Listing History to see a log of all status changes and events that took place with the web item.



Tab Definitions

Not Ready Tab: Contains any web item listings that have not been set to Ready. Items contained within this tab will not synch automatically unless selected and then listed using the List Now button.

Items that do not meet pre-set criteria located at Settings > Options > Storefront Settings may also be placed within the not ready tab.





These items can also be edited and set to Ready status, from which they will be synced automatically within a short time frame.




Ready Tab: Contains items that have the Ready to List! box checkmarked. These items will be synced automatically within a short time frame.


Active Tab: Contains web items that are already active on a web listing platform.


Completed Tab: Contains web items that have been sold on a web listing platform or otherwise removed from a web listing items. Depending on the platform used, these items can be reused by using the Duplicate Listing feature.


All Items Tab: Contains all web items regardless of their status. Gives a total overview of all web items.
HTML Description
Contains the description of a selected web Item that will display when listed on a web platform.
Photo Preview
Showcases photos that are attached to a web item.
Use the left and right arrows to cycle through attached images.
Related Topics
Duplicating A ShopRW / Shopify Listing