Adding ShopRW / Shopify Package Information
Enter the Weight, Length, Height, and Width of a package here.

This information can also be entered using Inventory Module and that information will propagate here when saved and changes in Listing Manager will reflect in Inventory Module


Note: The information will not change in Inventory Module until the item tab is saved and closed in Listing Manager
Dimensional Weight is a calculation used by many shipping carriers. It applies extra shipping charges for items that are light in actual weight, but large in shipping volume.
A warning will appear if your package is oversized, reminding you to check if the shipping service being used will handle a package with these dimensions.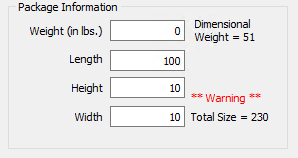 Related Topics
Creating a ShopRW / Shopify Listing Overview
Editing A Web Description in HTML
Definitions of Web Description Processor Buttons
Previewing a ShopRW / Shopify Web Description
Deleting Images From A Web Listing
Setting a ShopRW / Shopify Item to Ready To List
Saving a ShopRW / Shopify Listing