Adding A New Liberty Kiosk App Configuration
1.Open Liberty and then click Setup and then Liberty Mobile Admin.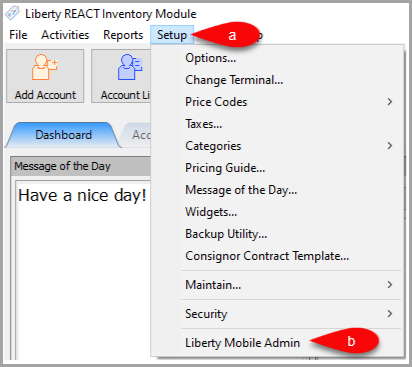 2.Click Maintain and then Kiosk Configurations.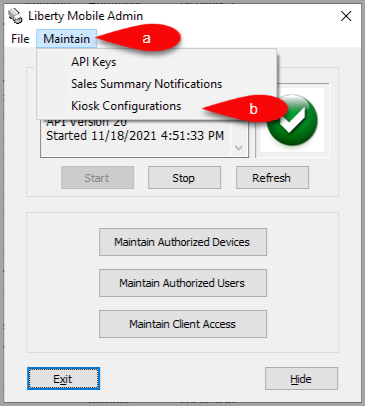 3.Click the dropdown for Add and then click Add New Configuration.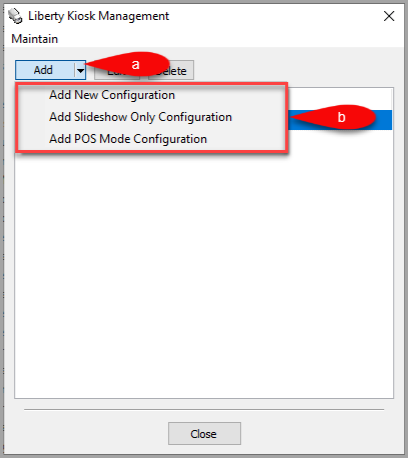 4.Type in the Title of the configuration you wish to use within the Name field.


Note: In this example, we just used Default Config

.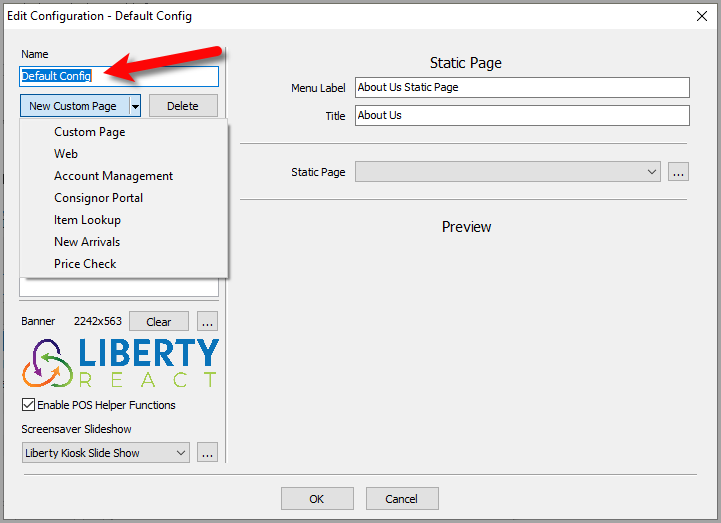 5.Click the dropdown for New Custom Page and then you can select which Liberty Kiosk App feature you would like to show up in the app.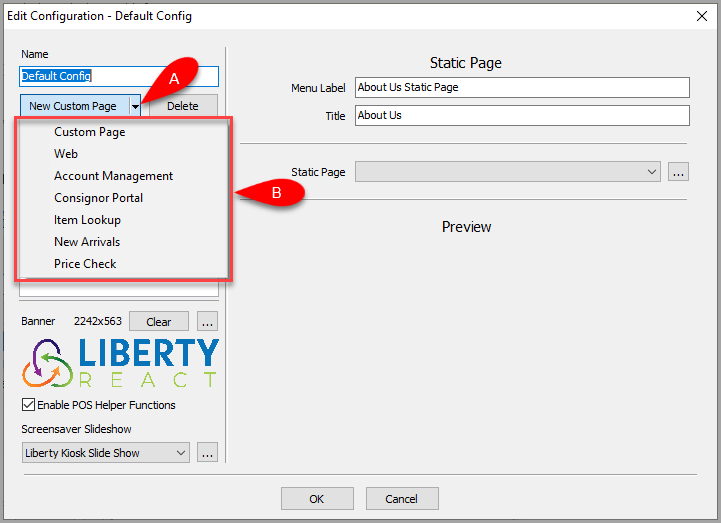 Here is a brief description of what each of these Liberty Kiosk App objects represent:



●Web: A feature that allows you to show a static web page of your choosing using a URL.
Note: You can have multiple web pages displayed in their own separate panels within the Liberty Kiosk App.
●Account Management: A feature that allows consignors to edit fields in their account like Contact Info, Preferences and Sign then/or View Contracts.


●Consignor Portal: A feature that allows your consignors to visit their specific Consignor Login page within the Liberty Kiosk App. Everything that can normally be seen on Consignor Login can be seen by the consignor, but you have full control over what is shown.


●Item Lookup: A feature that allows your consignors to look up their inventory that is on their account.


●New Arrivals: A feature that shows all new inventory that has been entered into Liberty, based on what is configured here.


●Price Check: Allows the user to scan a Liberty Item Tag using either the front or rear facing iPad camera to check the price of the item. Useful for when there is a Markdown Schedule that is not printed on the tag or when you are using Tag Color Markdowns.



Visit the left help area under Features to view articles that provide further information on the above Liberty Kiosk App features.



Next Article:
You are now ready to add a Banner to your Liberty Kiosk app

Please visit the following article to continue:
Adding A Banner To The Liberty Kiosk App


Related Topics




Linking the iPad Kiosk App To Liberty

Editing A Liberty Kiosk App Configuration
Adding A Banner To The Liberty Kiosk App
Setting Up The Slideshow Feature In The Liberty Kiosk App