Maintain Security Options
The Manitan Security Options screen is used for configuring various security settings in Liberty. To get to the Maintain Security Options screen, select Setup > Security > Maintain Security Options.
The Maintain Security Options dialog box will open.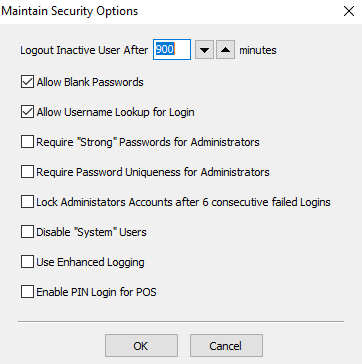 Maintain Security Options
●Logout Inactive Users After # Minutes : Use this setting to log inactive users out of Liberty after a set number of minutes.



●Allow Blank Password : Checking this box off allows users to login without using a password.



●Allow User Lookup For Login : When checked you will get a dropdown at the login screen that allows you to Select a user name. Without it checked, Users will be required to know their login name to be able to login.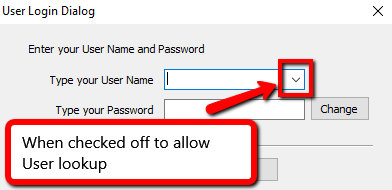 ●Require "Strong" Passwords For Administrators : When Checked, requires users with the Administrator Role to have a password comprised of a minimum of 7 characters and a combination of letters and numbers.
●Require Password Uniqueness For Administrators : When Checked, requires users with the Administrator Role to create a Unique password for their account when a new password is required.



●Lock Administrator Accounts After 6 Consecutive Failed Logins : If an administrator fails to login after 6 attempts, the account will be locked. when this is checked off.



●Disable "System" Users : This setting will disable any default users created by and installed with Liberty.



●Use Enhanced Logging : When checked will provide more detailed logging to the Support Log.



●Enable PIN Login For POS : When this is checked allows for anyone with a Generated POS Pin number to be able to login using only their PIN, and not their login name and password.
Once any of these settings are changed, be sure to select the OK button.