Suggested Ebay Item Specific Attributes

Suggested Attributes: Allows you to see a list of recommended eBay item specific attributes. eBay requires certain item specific attributes to be filled out before the item can be listed.


Note: A listing may receive an error syncing if a required eBay item specific attribute is missing. A good rule of thumb is to fill out the first 5 item specific attributes, unless they truly do not apply to your item. (Example: MPN or Manufacturer's Part Number on clothing)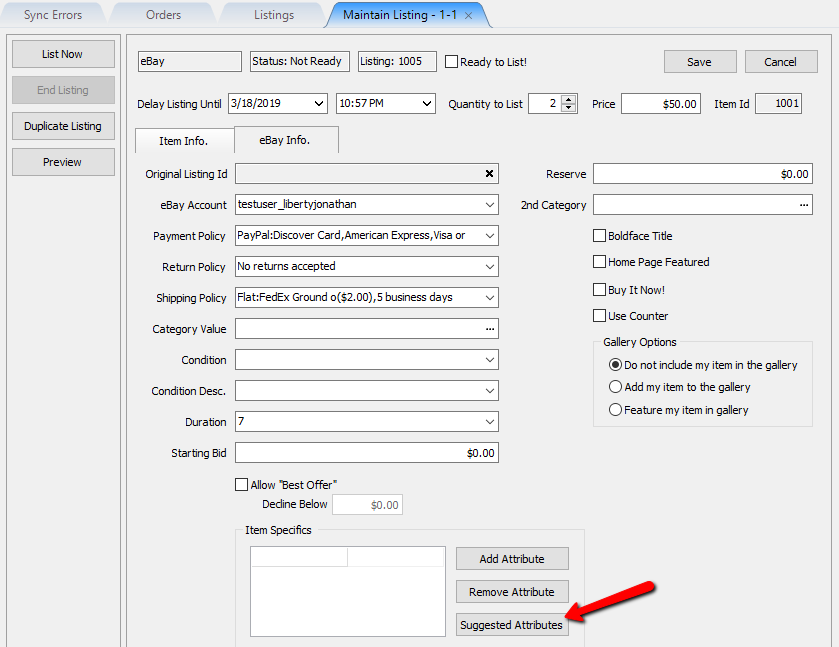 Once the Suggested Attributes button is clicked, you can then either use the dropdown to select values for the item specific attribute entries or you can type them in.



Related Topics
Setting Up Liberty Listing Manager To List Your First Ebay Item
How To List An Item On eBay Using The Listing Manager
Creating an eBay Listing Overview
eBay Specific Info. Listing Fields
Adding eBay Package Information
Definitions of Ebay Description Processor Buttons
Editing An eBay Description in HTML
Previewing A eBay Web Description
Adding Images To An eBay Listing
Deleting Images From An eBay Listing
Adding An eBay Item Specific Attribute
Removing An eBay Item Specific Attribute