Print Payout Detail
The following steps can be used to show a customer what they got paid for in a payout.


1.In Liberty Inventory, Lookup the account. Double click on the account you want to access to open its details.


2.Once the account is open, click on the Payouts tab.



3.From the Payouts tab, highlight the payout, and click on the Print Detail button at the top.







The Pay Detail Report dialog box will open.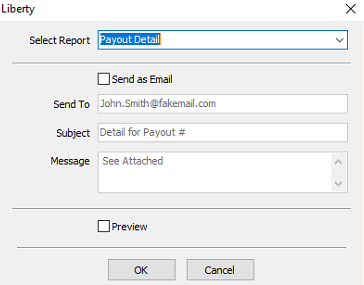 ●Select Report : Click the dropdown for Select Report and choose the pay detail report you wish to use.



●Send Email (Check Box) : Selecting the checkbox will email the report to the customer. If you choose the email the report, the Preview Check Box will not be accessible.



●Send To : Enter the email address you wish to send the report to.



●Subject : Enter the subject of the email.



●Message : Enter in a brief message to be included in the email.



●Preview (Check Box) : Us this checkbox to preview the report before printing it. If this is checked off, the Send Email Check Box will not be accessible.
4.Click the OK button when done.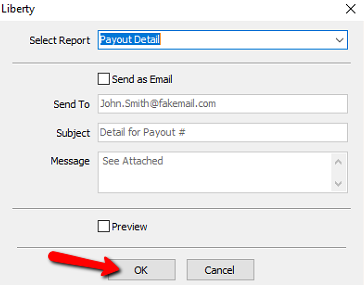 Related Topics