Headers/Footers
To Define A Header Or Footer:
1.To open the Headers/Footers window go to Setup > Options > Headers/Footers.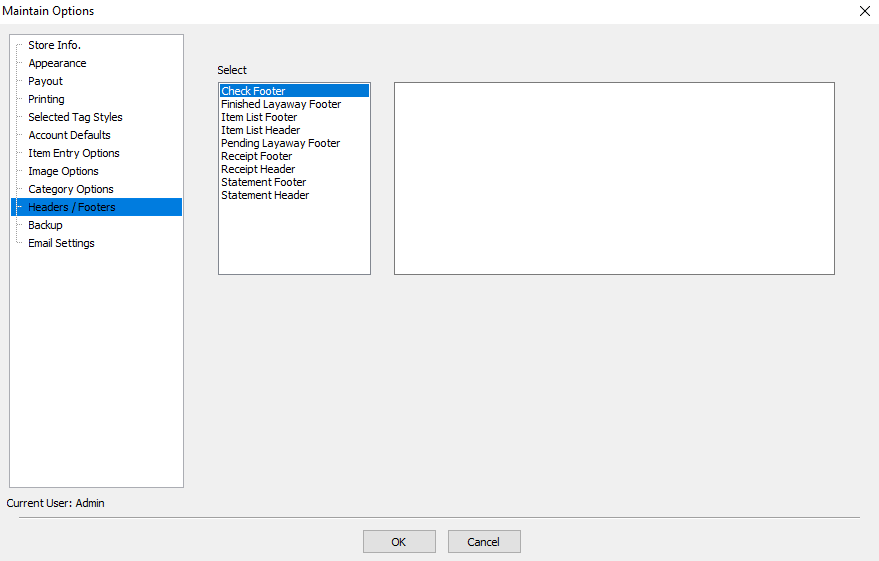 2.Click on the Header/Footer you want to define.
3.Click in the message box and type your message.
4.When finished click OK.
Reports/Documents You Can Add A Header/Footer To
●Check Footer : The Check Footer will print on one of the check stubs. By printing a Check Footer the list of items will no longer print on the check stub with the message on it.



●Layaway : There are two types:


○Finished Layaway Footer : Use to show same information as for a regular purchase, plus additional information pertinent to layaways.



○Pending Layaway Footer : Use to list layaway terms and conditions, etc.



●Item List Header/Footer : For the inventory list given to consignors.



●Receipt Header/Footer : For receipts printed from within the Point of Sale



●Statement Header/Footer : For Cash Payout Statements signed and dated by consignors when they are paid with cash instead of a check. Cash Payout Statements are retained by the store to provide a written record of cash payouts.
Note: It is not necessary to enter the store name, address or phone in the Headers, as this information is automatically printed by Liberty based on the information entered in Store Information.