View History of Account Purchases
To View A History Of Purchases Made By A Particular Client
1.In Liberty Inventory, Lookup the account.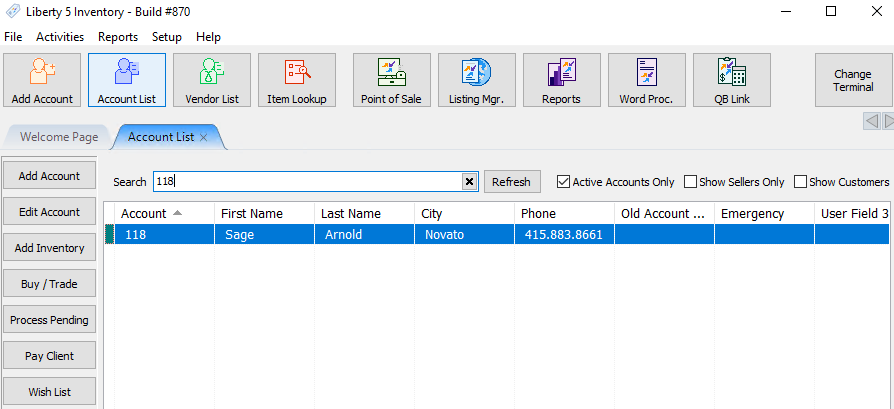 2.Click on the Purchases tab. The Purchase History screen will display.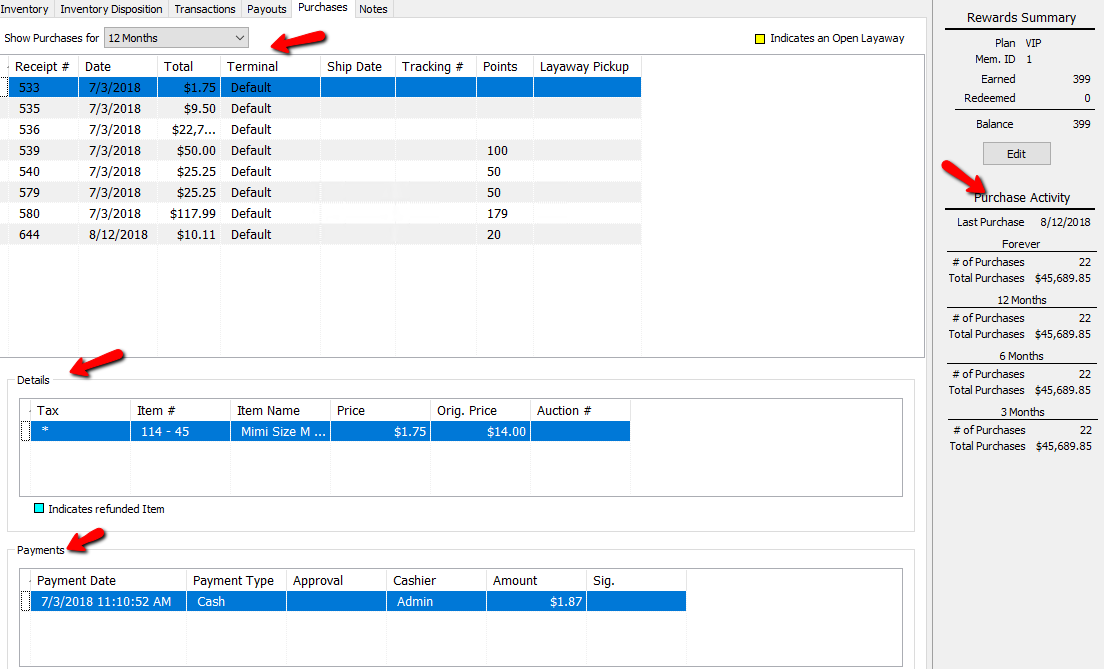 3.On the right hand side, you will also find a customer's Purchase Activity. This menu contains a customer Last Purchase, and Number of Purchases.



Explanation Of The Different Fields


●Show Purchases For : Select the time period for which you wish to view purchases by selecting from the Show Purchases For drop-down menu.



●Receipt # : Shows the receipt number for that purchase.



●Date : Date of the Purchase.



●Total : Total of all items for that purchase.



●Terminal : The identification of the terminal in the store from which this transaction transpired.



●Ship Date : If this item was shipped, the date of that shipment will populate here.



●Tracking Number : If the item was shipped, and a tracking number was entered into Liberty, it will display here.



●Points : If the customer is part of a rewards plan, the amount of points earned will be displayed here for that purchase.



●Layaway Pickup : Layaway Pickup is the date it's the Layaway is to be picked up by, based on the layaway period set in POS.



●# Of Purchases : Total number of purchases the customer has made.



●Total Purchases : Total amount spent in purchases.



●Last Purchase : The last date a purchase was made for this account.


Note: Any Purchase highlighted in Yellow indicates an open Layaway.

Details Section
●The Details section will give you the information for each purchase. Simply highlight the purchase above to review the details in the Details section.


●Tax : A Star (*) in this field indicates tax was assessed on this purchase.



●Item Number : Account-Item number of the item sold for that purchase.



●Item Name : Name associated with the item purchased.



●Price : Price the item sold for during that purchase.



●Original Price : Original price the item was listed for.



●Auction Number : If the item was associated with an auction, the Auction Number will be displayed here.


Note: Any items listed in this section in blue, are items that have been refunded.

Payments Section
●Payment Date : Date the payments were made for the purchase.



●Payment Type : Method used to make the purchase.



●Approval : If the customer has integrated credit card processing, and the Purchase was paid for with a credit card, the approval code from the processor will be here.



●Cashier : Name of the cashier that processed the purchase.



●Amount : The amount with tax paid in this purchase.



●Sig. : A Star (*) in this field indicates a signature was captured on this purchase. the signature can be viewed by double clicking on this field.